Cricut Expression Machine + Sure Cuts A Lot 2 (scal) Software + Cartridge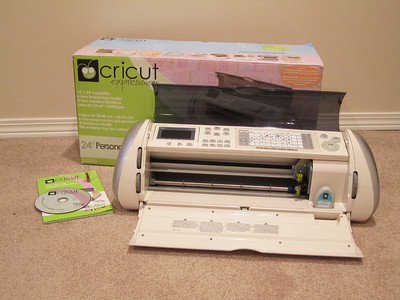 CRICUT EXPRESSION
Whether you're an avid scrapbooker or just a crafty person, the Cricut Expression machine is the ideal tool. This listing includes a gently used Cricut Expression machine PLUS the Sure Cuts a Lot 2 software that is so hard to find! This is a great value!
The Cricut Expression machine can cut on a 12"x12" or 12"x24" mat. Here is what you'll get in this listing:
Cricut Expression Machine
AC Power Cord
Manual with Instructional CD
Blades -- there is currently one blade in the housing and I will include two unused blades for you (a $10 value)
Home Decorating Cartridge (retails for $49.99)
Sure Cuts a Lot 2 Software (see below for more details)
Sure Cuts a Lot 2 (SCAL) Software
"Sure Cuts A Lot 2" is an easy program to cut your True Type fonts and various shapes using your Cricut Machine. You will never have to buy another cartridge again; all you need is the one that came in your machine! You can trace any jpg image found on the web and there are websites that offer free SVG images to use with SCAL! This software is discontinued. This is the downloaded version that will be burnt to CD with everything you need to get started. A few minutes of setting up is required.
New v2 Features
• New ways to manipulate and organize objects including Select All, Group and Ungrouping
• Add multiple pages
• Use layers to organize objects within a page
• Modify text more easily
• Auto tracing feature to automatically convert images
• Show rulers using inches or centimeters
Features
• Works with your installed True Type fonts on your computer
• Works with Cricut Personal and Cricut Expression machinesTM
• Works with thousands of free True Type fonts
• Works with hundreds of free True Type Dingbat fonts
• Import various file formats SVG & PDF files to allow you to use your own custom artwork
• Weld overlapping letters and shapes together
• Drawing tools to draw and edit shapes
• Select styles, including Shadow and Blackout, to change the look of your letters and shapes
• No special cartridges required ( you only need the one that came with your machine as the machine will not cut without a cartridge in it)
• Cut additional shapes from the "Sure Cuts A Lot" Library
• WYSIWYG Interface - What you see is what you cut
• Save your design layouts, so you can save your work to allow you to make changes over time
System Requirements
• Pentium processor-based PC or compatible computer
• Windows XP/Vista/7
• 512 MB of RAM
• 50 MB of available hard disk space
• USB Port 1.1 or 2.x
• CricutTM Personal - Firmware v1.1 -1.34
• CricutTM Expression - Firmware v2.1 – 2.43
• Cricut Create -- v1.51 - 1.54
• Cricut Cake-- v1.51 - 1.54, 2.3
• USB Serial Converter Driver
PLEASE NOTE:
Please note that this software does not work with the Cricut Imagine or the Cricut Expression 2 or with MAC. Use of any 3rd party software could void the warranty on your Cricut.
I purchased the Sure Cuts a Lot 2 software via a download. I will deactivate the key currently installed on my computer. This will allow you to install the software on up to two of your computers.
The SCAL2 software is a rare find. The company does not make the software any more and it does not work with any other Cricut machine. This really expands what you can do with your machine and is the reason I bought a Cricut to begin with. Please ask me any questions about this software; I would be happy to help.